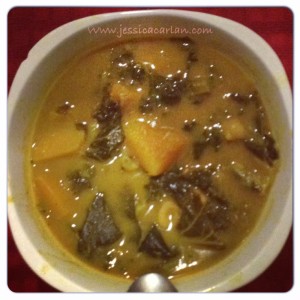 2T olive or coconut oil
1 large white or yellow onion, diced
1 T fresh ginger, minced (ground ginger is also fine0
3-4 cloves garlic
2T red or yellow curry paste
1 medium butternut squash (about 1-1.5lb) peeled and cut into 1″ cubes
1 13-ounce can coconut milk (light if possible)
4 cups vegetable broth (low sodium if possible)
2 cups water
2 T curry powder
1 Tsp turmeric
1 Tsp cinnamon
1/2 Tsp ground cloves
*optional: dash of cayenne
1 15-ounce can chickpeas, drained and rinsed
1 bunch kale, leaves torn, stems chopped (swiss chard or collards also work.)
Sea salt and pepper to taste
Heat the oil over medium heat in a large pot. Add the onion and sautee until it's soft (approx. 5 minutes). Add the kale stems, ginger and garlic, sautee for 2 minutes more. Pour in coconut milk and whisk in 2 tablespoons of curry paste. Add butternut squash, chickpeas, coconut milk, broth, water followed by all spices.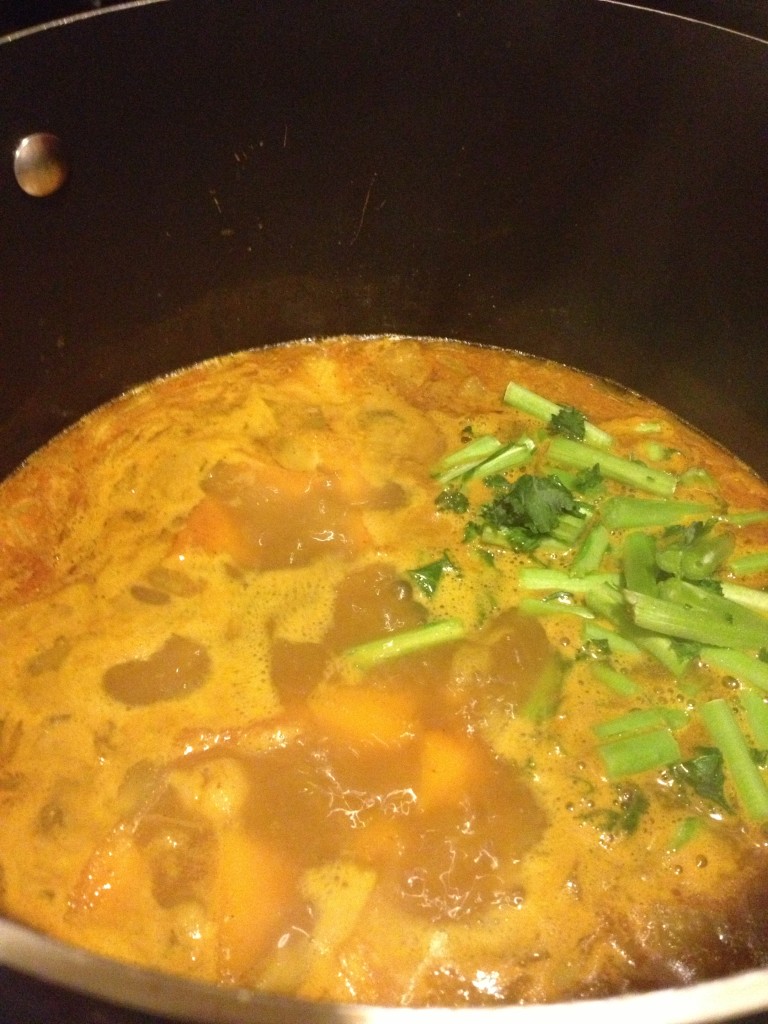 Lower heat to a simmer, and cook for 10-12 minutes. Add in kale leaves (and/or swiss chard) and cook for another 2 to 3 minutes. Serve or freeze up to 4 weeks.
========
*Curry paste is suprisingly in most grocery store chains….