Finding time to prepare nutritious and healthy meals continues to be a challenge for many of us.  Loaded with protein, fiber and minerals, this simple oat bake is healthy, filling and most importantly delicious. It can be tweaked to be Gluten-free and/or Vegan.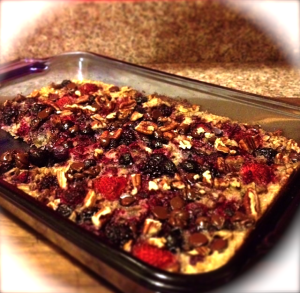 2c Organic Gluten Free Quick Cooking Rolled Oats (**such as Bob's Red Mill, which guarantees no cross contamination with wheat, etc.)
1/2-3/4c Dark Chocolate Chips ( I use Enjoy Life) or cacao chips (never optional for me!)
1c Raw Almonds
1tsp Baking Powder
2tsp Ground Cinnamon
1/4c Coconut Sugar
1/2 tsp Sea salt
2 Bananas cut into bite size pieces
2c Almond Milk or milk of choice
3T grass fed butter or coconut oil melted
1T Pure vanilla extract
1c Organic berries of choice (organic frozen berries are in most grocery stores during the winter.)
For a Protein, Fiber and Omega-3 Boost add:
2T Flax Seed
2T Chia Seed
2T Hemp Seed
Preheat the oven to 375 degrees F. In a large bowl, mix all dry ingredients
In a separate bowl, beat together wet ingredients. Stir in chocolate chips.
Spread dry ingredients into a 9×13 inch baking dish lightly coated with coconut oil and top with banans and berries of choice.
Pour wet mixture over the top and bake for 35-40 minutes.
Let stand 10-15 minutes prior to serving