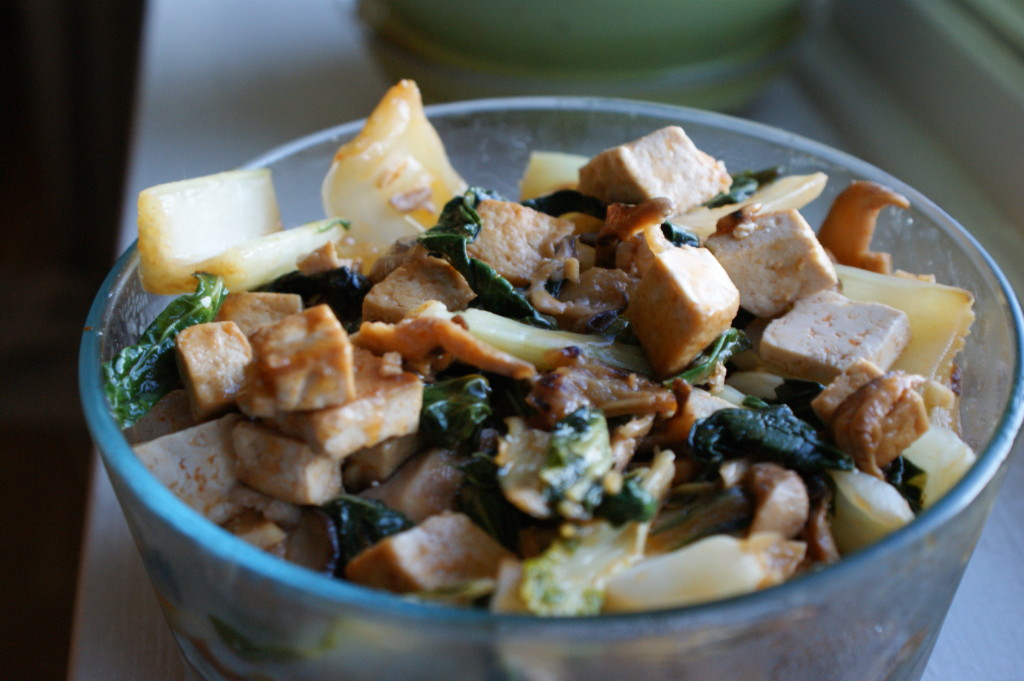 Protein equals meat correct? Not necessarily.  That is the misconception.  After completing an elimination diet to uncover food sensitivities, I recently added soy back into my diet.  So far so damn good!
With 10 grams of protein per half-cup serving, low in calories and zero saturated fat, tofu is a perfect candidate for meatless meals that won't leave you hungry again in an hour.  Tofu is also a great source of calcium and iron, which is extremely important for women.  It helps reduce hot flashes and preventing the high bone-loss risk related to menopause.  Tofu is high in plant-based soy isoflavones, which have shown anti-cancer benefits. The Shanghai Breast Cancer Survival study, published in JAMA December 2009, links soy foods to lower risk of breasts cancer.  More information can be found here.  Isoflavones also can directly scavenge free radicals, thereby preventing premature aging.
Bok Choy, or Chinese cabbage, is a cruciferous veggie that is extremely low in calories and packed with vitamins A and C.  It is a very good source of beta carotene, which has been well-studied as a dietary antioxidant.    
TOFU TIPS:
If you're not a fan of "mushy" textures, stick with "firm" or "extra-firm" tofu
Tofu takes on the flavor of anything you season it with as long as it is drained before cooking

To drain it before cooking, set the tofu in a bowl between paper towels. Press it gently to squeeze out the excess water, or place a lightweight plate on top, allowing it to sit for 15 minutes.

As noted on Oprah.com, soy is best eaten in moderation and as a whole food—such as tofu or tempeh—since concentrated soy supplements contain higher levels of phytoestrogens (estrogen-like chemicals that occur naturally in plants), which may actually increase some women's risk of breast cancer. One daily four-ounce serving is an excellent addition to a healthy diet."
Stir-Fried Tofu and Bok Choy
1 tsp. cornstarch
2 Tbs. low-sodium soy sauce or tamari for gluten free
2 tsp. minced fresh ginger
2 tsp. Thai chile sauce, such as sriracha
2 cloves garlic, minced (2 tsp.)
1 tsp. sesame oil
3 Tbs. coconut oil, divided (canola will work)
1 14-oz. pkg. extra-firm tofu, drained and cut into bite-sized cubes (preferably organic)
1 lb. bok choy, cut into 1 ½-inch pieces
2 cups sliced fresh shiitake mushrooms
1. Whisk together cornstarch and 1 tsp. water in bowl. Whisk in soy sauce, ginger, chile sauce, garlic, and sesame oil.
2. Heat 1 Tbs. coconut oil in large skillet or wok over medium-high heat. Stir-fry tofu 7 minutes, or until golden brown; transfer to plate. Add 1 Tbs. oil to pan. Stir-fry bok choy 4 minutes; transfer to plate.
3. Add remaining 1 Tbs. oil to pan. Stir-fry mushrooms 2 minutes, or until tender. Return tofu and bok choy to pan. Stir in soy sauce mixture, and stir-fry 1 minute, or until hot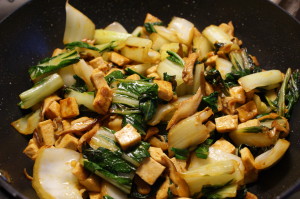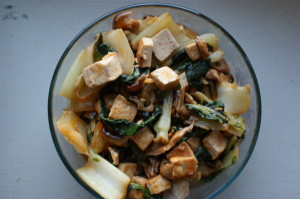 Recipe credit here