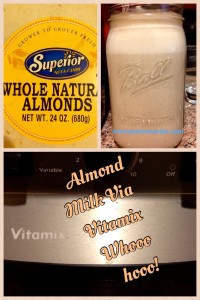 Fast.  Simple.  Saves money? I'm in.  By using your blender to create homemade milks, flour, meal or nut butters you can dramatically reduce your weekly food bill.  Buying almonds in bulk will even further your savings. (Homemade Almond Milk recipe can be found here.)
In a few simple steps you can grind your own almond flour with a regular high-powered blender (I use my Vitamix) No grain attachment necessary.
For those of us watching our glycemic index, almond flour is high in protein, low in carbohydrates and low in sugars.  It is a perfect grain-free, Paleo friendly option for anyone with food sensitives to wheat or grain.  Use it in waffles, pancakes, muffins and cookies! Speaking of cookies, you may want to try these Soft Baked Chocolate Chip Almond Treats!
1) Measure 1 cup of raw or blanched (skin removed) almonds
(Raw almonds will create more of a almond meal while blanched [skin removed] almonds will create more of a finer store bought almond flour.)
2) Place almonds into your blender.  One cup just covers the blades of my Vitamix
3) Secure the blender lid and place the tamper inside the blender.  Turn blender on high for 5- 7 seconds, using tamper if needed (For Vitamix process on High, Speed 10)
Pour fresh ground Almond Flour into a container with a tight sealing lid and store in your refrigerator for up to 6 months.